Classics @ the Smith – Featuring the Trio Bel Suono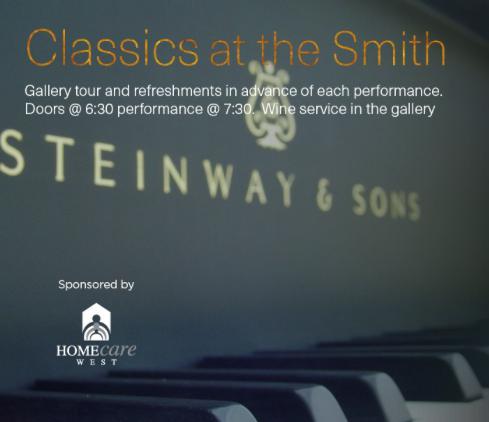 Another great night of "Music meets Art" event sponsored by HomeCare West. Come and join us to enjoy amazing classics along with a gallery tour in advance of the performance, the upcoming event on Tuesday, February 6, features the Trio Bel Suono. Marea Chernoff, Oboe, Richard Epp, piano, David Overgaard, bassoon.
Music by: Francis Poulec, Madeleine Dring, Casimir – Theopile Lalliet
The evening began at 7:30 with a brief history of The Gordon and Marion Smith Foundation for Young Artists by Chair, Paul Killeen.
The Gordon and Marion Smith Foundation was founded in 2002 by the visionary team at the North Vancouver School District and Artists for Kids to build an endowment fund to provide art enrichment opportunities for the children of British Columbia.
Artists For Kids has become a widely acclaimed program, providing over 5,000 young artists each year with art enrichment program opportunities.  With the help of patrons, the Smith Foundation has contributed over 3 million dollars to their community partner Artists For Kids since 2002, supporting over 55,000 young artists.
Let the music play…
It was my pleasure to have as my guests, 4 participants from our Senior's Fitness program and a Homecare West client whom also participates in our weekly community fitness classes.
During the one-and-a-half-hour performance, we enjoyed two French and one Canadian Composer. All three of the musicians are not only great musicians but educators too, sharing with us the history and their knowledge of the instruments they so eloquently played.
As we sat back, with leg room to spare, I listened to the second movement of the final piece, the impressing sound, the distinct voice of the bassoon playing to the oboe I knew this composition would follow me to my bed.
It was a lovely evening.
Please join us Tuesday, February 6th for the masterworks of the classical repertoire for violin, viola, and cello with Jennie Press, violin; Emilie Grimes, viola and Lee Duckles, cello.
Hope to see you all there!