Last concert of the season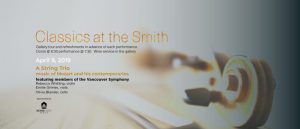 Homecare west has been the sponsor for Classics at the Smith for the past four years.
During this time, we have moved from afternoon to evening concerts with attendance growing from 20-25 people to over 100. All of us enjoying the inspiring surroundings while art meets music.
The program for our final evening began with Flute Quartet in D major, K.285.  W.A. Mozart (1756 – 1791) and finished with Divertimento in E Flat, K 563, W.A. Mozart (1756 – 1791).  Rebecca Whitling, violin, Emilie Grimes, viola, Olivia Blander, cello and Christie Reside, flute.
After the concert, our clients and friends gathered to share coffee and pastries and say farewell until September.
The importance of music in our lives is paramount to our well-being, enjoying it with others increases the benefits.
Music inspires movement, provides stress relief and can improve speech and cognitive skills.
Music reduces stress and anxiety by slowing high heart rates which in turn reduces cortisol levels, the stress hormone in our bodies. We react to music in many ways, moving our bodies, tapping our toes, clapping our hands and remembering lyrics to songs we haven't heard for many years.  Music arouses memories that delight and give us pleasure, inadvertently increasing blood flow to our brain.  Wow, sounds like a work out in G minor.  Who knew that listening to our favorite music, whatever it may be would have so many benefits?
Please join us next season as the Gordon Smith Gallery and Homecare West presents "Classics at the Smith" and give yourself a dose of music therapy.