Allies in Aging – Managing Pain Workshop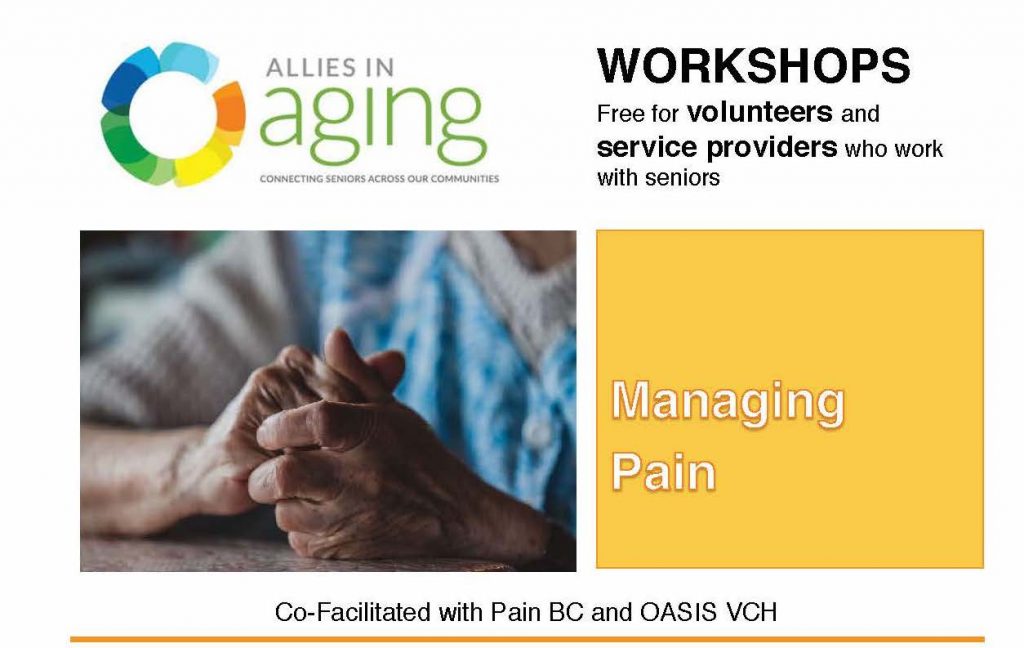 Allies in Aging is pleased to invite you to join their upcoming workshop, "Managing Pain Workshop", this workshop is designed for Volunteers and Service Providers who work with seniors.
Please click here to register.
In the Managing Pain Workshop you will: 
Learn about chronic pain and how it can impact one's quality of life, using the example of osteoarthritis.
Examine effective self-management techniques.
Identify helpful support groups and community resources.
This workshop will be co-facilitated with Mark Nazemi of Pain BC and Live Plan Be, and Susan Johnston of OASIS, (Osteoarthritis Service Integration System), VCH.
When:  Thursday, September 13,  11:40am – 3:00pm (registration 11:40am to 12:00pm)
Where: Sunset Community Centre, 6810 Main Street, Vancouver
Cost:  Free, and registration needed.
Click here to register. See the attached poster for details. We encourage you to bring your own mug. Refreshments will be provided.  
We at Homecare West hope to see all you there!