Musical Mornings with the Koerner Quartet
The audience was delighted on Tuesday morning by the Koerner Quartet. The concert was hosted by the Gordon Smith Foundation and sponsored by Homecare West.
After sipping our tea and coffee and enjoying tropical fruit and pastries we proceeded into the gallery for a tour. The exhibit had a theme "optimistic and pessimistic". Listening to the Volunteer leading us through, I noticed I could see both sides to each piece. E.J. Hughes's painting of a wood mill was a great example of optimism and pessimism showing us what the mill was leaving behind as a footprint and what it was giving to the community.
One of Gordon Smith's paintings was on display. He is an amazing artist and visionary, giving Canadian artists an opportunity to be seen and heard.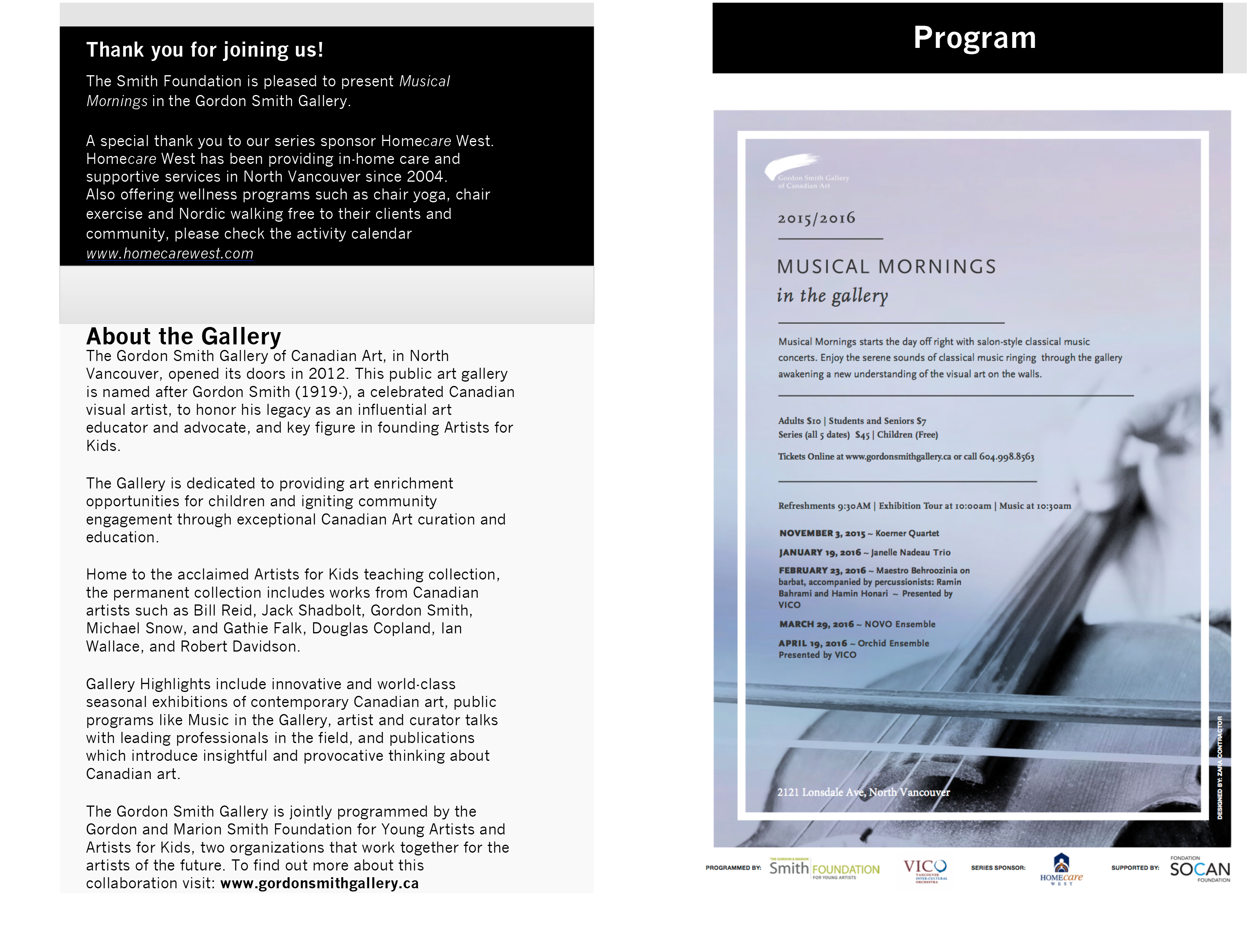 At the Gordon Smith Gallery, art is not just hung on the walls and seen by our eyes, art is also received by its audience through the notes played by the musicians and carried through the incredible space provided to us by Mr. Smith and the generous support of our community.
Each concert begins with refreshments from 9:30 – 10:00, followed by a gallery tour from 10:00 to 10:30. At 10:30 the concert begins.
Click the image to view the full Program!
The next concert at the gallery is January 19th, 2016 featuring The Janelle Nadeau Trio.
Join Us!
Koerner Quartet
Comprised of four of Canada's most esteemed musicians, the Koerner Quartet is rapidly gaining an international reputation for delivering nuanced performances with a sophisticated interpretive style. Ensemble-in-residence at the Vancouver Academy of Music, the Koerner Quartet balances an active international performing itinerary with a dedication to sharing with aspiring musicians the joy and instructional benefits of studying chamber music. The Koerner Quartet directs annual chamber music seminars in Vancouver and Hong Kong in addition to numerous educational outreach initiatives in conjunction with performances throughout North America, United Kingdom and Asia. Active recording artists frequently heard on live broadcasts for CBC, BBC, Radio Europe, Hong Kong Radio 4 and NHK, the Koerner Quartet has recently received critical acclaim for their latest recording of Ravel and Bartok #1 string quartets. The Koerner Quartet is named in honor of one of the founders of the Vancouver Academy of Music, Ms Iby Koerner, and takes inspiration from the Koerner family's history of philanthropic dedication to the Arts and Culture throughout Canada.
The Koerner Quartet has recently been featured in the Vancouver Sun for Notes of Love and Protest.