Pedestrian Safety Event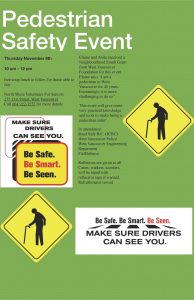 We at Homecare West are happy to share the upcoming event of the Pedestrian Safety organized by North Shore Volunteers for Seniors. This event will give some very practical knowledge and tools to make being a pedestrian safer!
In attendance: Road Safe B.C. (ICBC), West Vancouver Police, West Vancouver Engineering Department, and Fit4Defense.
Reflectors are given to all Canes, walkers, scooters, will be taped with reflective tape if wanted. Refreshments served.
"Pedestrian Safety" Event Detail:
Thursday, November 8th 10 am – 12 pm free soup lunch to follow for those able to stay North Shore Volunteers For Seniors 275 21st Street, West Vancouver Call 604 922-1575 for more details.
We at Homecare West encourage you to attend this event and learn about Pedestrian Safety, it's so important for all of us to know how to keep ourselves safe. If you have any questions please feel free to contact us. Hope to see you all there.