Poverty Reduction for People with Disabilities. Event Promotion by Homecare West.
Have Your Say! Meeting March 10
Poverty Reduction for People with Disabilities and Families.
Are you a person with a disability (invisible or visible) experiencing poverty?
What are the issues facing people with disabilities in poverty right now?
What would work to help people out of poverty?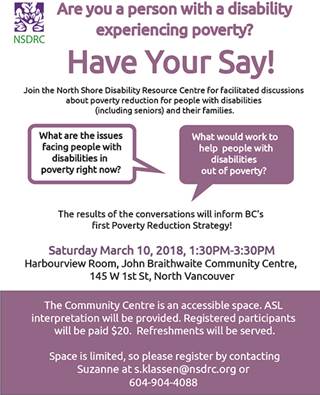 Join the North Shore Disability Resource Centre on March 10 for facilitated discussions about poverty reduction for people with disabilities (including seniors) and their families. The results of the conversations will inform BC's first Poverty Reduction Strategy!
Poverty Reduction for People with Disabilities and Families Event.
Saturday March 10, 2018, 1:30PM-3:30PM Harbourview Room, John Braithwaite Community Centre, 145 W 1st St, North Vancouver
The Community Centre is an accessible space. ASL interpretation will be provided.
Registered participants will be paid $20. Refreshments will be served.
Space is Limited so, please register  by contacting Suzanne at:
 s.klassen@nsdrc.org or 604-904-4088
This event is promoted by Homecare West, the best senior caregiving and home assistance services provider in Vancouver.
Homecare West is always here to support you and your beloved ones.