Oakridge Seniors' Centre – Volunteers Needed
Volunteers needed!! Are you ready to join one of the greatest seniors' communities?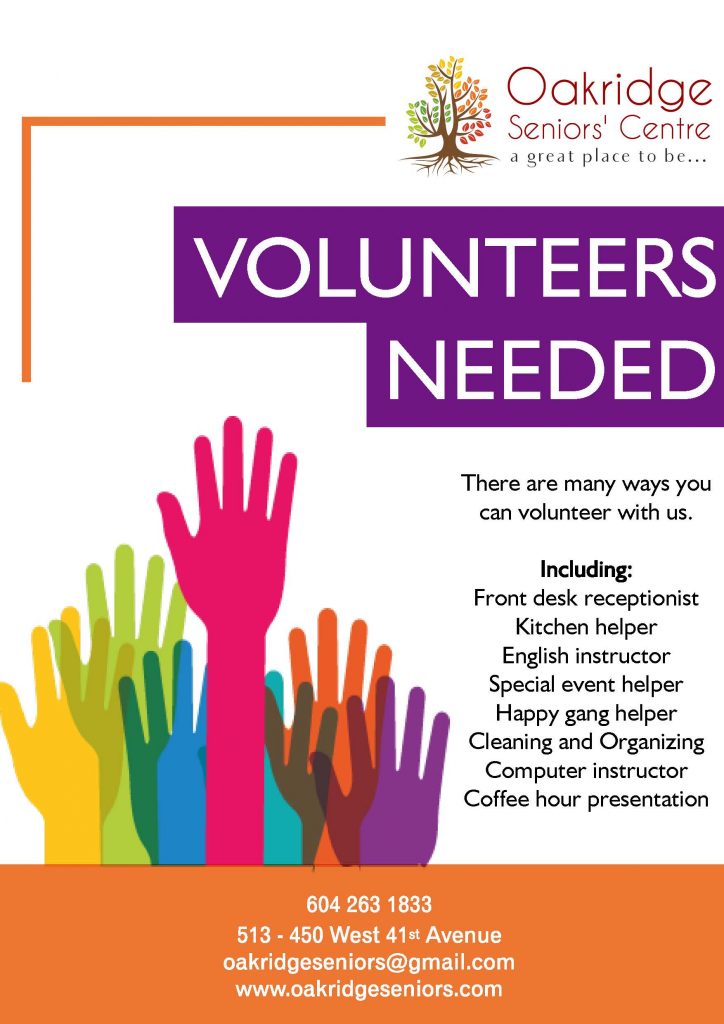 Oakridge Seniors' Centre – Volunteers needed
Oakridge Seniors' Centre is run by an amazing group of volunteers including our board of directors, front desk staff, instructors, event organizers, set-up and clean-up teams and many more. We could not run without everyone's hard work. If you are interested in volunteering your time, we would love to speak with you.
Do you have a special talent? Are you a performer? Donate an hour of your time to entertain our members. Are you a talented artist? Why not teach a workshop or give a presentation. There are so many ways to give back to our seniors.  our mission is to enhance the quality of life of seniors by providing a fun and welcoming environment through friendly association and recreation with the spirit of fellowship.
There are many ways you can volunteer with us, including:
Front desk receptionist
Kitchen helper
English instructor
Special event helper
Happy gang helper
Cleaning and Organizing
Computer instructor
Coffee hour presentation
If you think you can help; please join us today.
"You are never too old to set another goal or to dream a new dream" – C.S. Lewis